Adding an elevating roof or pop-top transforms the living and sleeping space in a VW camper van and is one of the most popular elements in converting a VW bus into a camper. This job is best left to the professionals and there are a few companies who offer a supply and fit service around the country some of which are listed below with links to their web sites.
Prices are from June 2008
I'm mentioning where these companies are based as it may be pertinent as you will need to take your van and leave it while the roof is fitted. I contacted a couple of firms and your van will need to be with them for around a week to complete the work.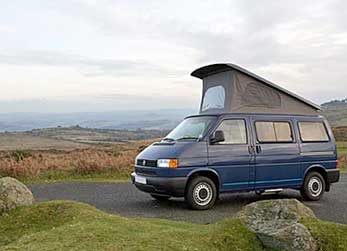 O'Connors Campers based in Okehampton, Devon manufacture, supply and fit their own fibreglass elevating roofs to Volkswagen Campervans: Splitscreens, Baywindows (T2s), T25s, T4s and T5s.
The O'Connors roofs include external gas struts and hinges which make the roof easy to raise and lower. Their service can include bed base, foam mattress and mattress cover.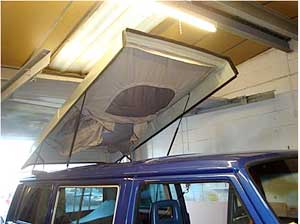 Prices for supply and fit start at around £2500 plus VAT. You can purchase a DIY kit for T2s and T25s. The price is £1700 plus vat plus carriage (usually about £100).
For Type 4s and Type 5s O'Connors supply and fit Reimo Super Slim roofs for £2850
+ VAT.
South West Camper Conversions Ltd
based in North Devon who fit REIMO elevating roofs to VW T4 & T5's. They are an insurance recognised converter and can fit roofs from £2775.00 Inc VAT. Click here to see there roof pricing page.
Rainbow Conversions based in Wisbech, Cambridgeshire supply and fit Reimo elevating roofs and high tops which can be colour coded to match your vehicle's colour for T4 long wheel base and short wheel base campers and elevating roofs for T5s.
Freebird – Conversions based in Winkleigh, Mid Devon, supply and fit the Reimo elevating roof with strengthening frame, and roof bed. Prices.
If you need to renovate an older elevating roof try Camper Shop. They provide new bellows and spares for many of the more common elevating roofs.
Outermotive, based in Warwick supply spares for Viking Campers roofs and can do a full conversion to add a Viking Roof to your T2. Costings and further details are available on request.
And finally if you have a pop top and want to go back to a "tin top look" these folks will, for £295, sell you a new roof for your VW bus. Riviera Roof Company
If you come across other suppliers of elevating roofs that you think we should add to this article please email us via the contact page.
Once your DIY campervan is completed Caravanwise can provide a competitive camper van insurance quote.