Fitting A Fridge In Your Campervan
This detailed article, approved by Dometic (formerly Electrolux) covers why you should have an approved installation. Dimensions and clearances required in the recess, ventilation requirements for safety and performance, fitting an approved flue, LPG gas installation and electrical conections. If you are planning to fit a fridge yourself this is a must read article and OBriens can supply all of the parts required including the fridge itself.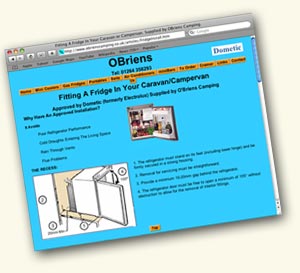 Follow this link for direct access to the latest version of the page; Fridge Instalation
The site also has a specific article on fitting an RM123/122 fridge into a classic VW campervan. The RM122 2 way gas/12volt camping fridge and the RM123 3 way main/gas/12volt camping fridge are very popular in the classic VW campervans. This article details some work arounds required to fit this fridge to your classic camper. More Info
Fitting Seitz Windows in Caravans, Campervans and Motorhomes
Seitz S4 Framed Windows : A complete window for motorhomes, caravans and camper vans. Supplied as an assembly, ready to install, with grey acrylic double glazed pane, black outer frame, integrated roller blind and flynet. The practical, central, one-hand control system combines both flynet and blind for easy movement into various positions.
Simply and quickly installed, to wall thickness from 1 mm (sheet metal thickness) up to 53 mm, using suitable timber strips (not supplied). More Info
Once completed Caravanwise can provide a competitive camper van insurance quote for diy campervans.