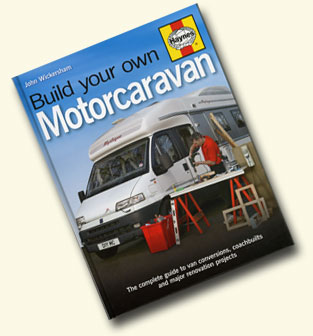 Build your own Motorcaravan
by John Wickersham
Publisher Haynes
This is the best general book that I have come across on building a DIY motorcaravan, that is not to say that it is perfect and it is not a recipe book which provides you with a step by step action plan. Having said that It covers everything from examining your motivations and capabilities through to strategies for building your dream van through to some of the fine details of the build process.
The book takes a very common sense approach, for example.
Chapter 3 sets out five potential strategies.
1. Rebuilding and older model
2. Part Built specialists
3. Self build kits
4. Fitting out with modular furniture
5. Going it alone
The last option requires a very high level of skill and commitment. The other four allow you to focus on a project that is more limited in scope and which you are comfortable with the input that you will have to make.
The point was made in the previous chapter that DIY and professional builders both use outside help. As a rule, manufacturers order specially made wiring harnesses, re-upholstered cab seats, modified chassis components and prefabricated doors.
In a similar way, a DIY builder can also buy-in products and skills. Without doubt, this is a logical way to proceed, but you still have to have a basic knowledge about pracices and proceedures. After all, it is essential to create a vehicle which is safe on the road and safe inside the living space.
I would fully endorse those sentiments.
Because of the every wide range of possible approaches and finished vehicles this book is not like a typical Haynes guide to a particular model of car or motorcycle. So it doesn't provide a step by step guide to the stripping a rebuild process as seen in Haynes guides on specific models. It does however provide a good broad introduction and highlights many of the potential pitfalls that you may face. If you are going to spend a few thousand creating your perfect motorhome or campervan, you really should spend £17.99 buying this book first. If it puts you off starting the project it is money well spent, if you do go on to build your own motorhome it will be better for having read this book.
In fact you can get a copy even cheaper from Amazon
Reviewers on Amazon, who have used the book in their build process, are less complimentary. One points out that the book is not in the logical build order in that it covers plumbing and electrics at the end but in fact these need to be put very early in the process. He also suggests that it does not provide solutions for specific issues that he found in his build. for example "I wanted to cut grooves in wood but the advice is simply what tool he uses then a photo of the finished product – no explanation of how to get a straight line". Personally I don't think its the place of a book on DIY motorhome building to teach you how to use a router. You need to go to books on routers.
Another reviewer thinks that the book is a "a little shallow and somewhat rambling with a lot of repetition" and complains that there is too much about safety. From an insurance specialists point of view more safety is exactly what we need and that is exactly what you need for yourself and your family.
Perhaps therefore not the perfect book but still well worth the cover price if you are planning to embark on a DIY camper van project.
If you want to order it from your library here is the ISBN number. 978-1844252213
Haynes Build Your Own Motorcaravan