If your joinery skills are not up to producing the internal finish that you dream of South West Camper Conversions can help with furniture packs for standard and LWB T5 VW conversions. They will even fit the furniture for you for a price.
It's worth taking a look at the options available. Although the cost will be higher than starting from scratch for yourself, the finish is likely to be more professional and you will probably recoup the extra cost when you come to sell your van, if you can ever bear to part with her.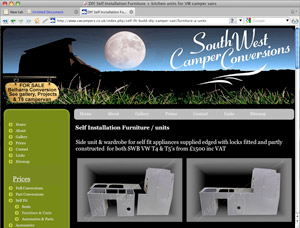 Once your DIY campervan is completed Caravanwise can provide a competitive campervan insurance quote.