An excellent RHD MPV imported from Japan in excellent condition, well maintained and often with low mileage. This page is a general introduction to this vehicle with information about DIY options for them.
Nissan Elgrand E50 1997 to 2002
The E50 was the original model manufactured between 1997 and 2002, these are still being imported into the UK and are available both fully converted and ready for your own conversion. You could do a full side conversion with rock and roll bed or a day van conversion making it a good car for use as a run around although they are not very economical.
There are a number of model variants with different trim and technology levels. V, VG, X, XL, Highway Star, Rider, and S Edition. The Highway Star, Rider and S have luxury trim levels.
In 2022 you can pick up a good 2000 model with 40,000 miles on the clock for under £8,000. Newly converted campervan with pop up top and nice quality interior, 17,000 miles, V6 4WD seen for £18,000.
4 cylinder 3L TD 170bhp to 3.5L V6 Petrol
8 seats 5 doors. 4 speed automatic transmission, 2 or 4 wd available.
Rear wheel drive or 4WD
Kerb weight: 2060kg
Max weight: 2500kg
Total weight available for conversion, people, gear, cooking fuel, bike rack and bikes etc 440kg
Length: 4740 mm
Width: 1775 mm
Height: 1940 mm
E51 2002 to 2010
There was an update in 2004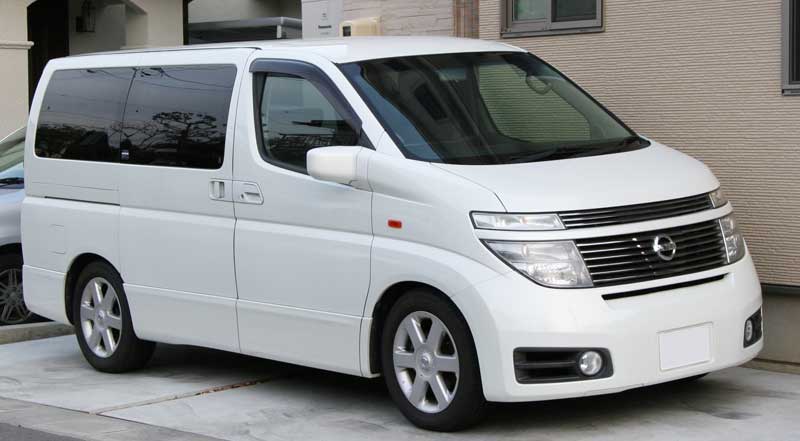 3.4L V6 24 Valve 240 bhp Petrol.
Fuel efficiency is not good. You are lucky to average 18mpg.
Pricing depends on model, mileage and year but in 2022 a low mileage newly converted 2006 Elgrand with pop up top, is typically £25,000, examples that have been used as campervans for a couple of years are a few thousand less expensive. Low mileage 2004 ready for conversion would be around £8,500, similar 2008 fresh import about £12,000.
8 seats 5 doors, 5 speed automatic transmission, 2 or 4 wd available.
Rear wheel drive or 4WD
Kerb weight: 2010kg
Max weight: 2450kg
Although the E51 is 50kg lighter than the E50 the maximum load is still 440kg.
Length: 4835 mm
Width: 1795 mm
Height: 1920 mm
The Highway Star, XL and Rider are very high spec and would all make a luxury campervan or day van. A very practical luxury vehicle.
There's an excellent full review by an expert here:
Andrews Japanese Cars Review
Which one to buy?
"I recommend the (optional) 4WD transmission with the 3.5 litre engine. Sometimes rear wheel drive cars can get stuck fairly easily in wet boggy fields, snow, sand etc and this is why I'm recommending the 4WD. … I'd also recommend going for one of the darker interiors."
Rear conversion.

Side conversion with rock and roll bed.

E52 2010 to present with various updates and facelift versions.
The body shape is now much more streamlined but the vehicle retains the same 3.5L V6 240bhp Petrol. engine. 2.5L is available. It is longer, lower and wider, not by much but it makes a difference. To be honest I think I prefer the E51 shape for a campervan.
Kerb weight: 2060kg
Max weight: 2455kg
Length 4,915 mm
Width 1,850 mm
Height 1,805 mm
With the introduction of the E52 transmission has moved to Front Wheel Drive with 4WD available. It now has CVT (Continuously Variable Transmission) essentially belt drive with 6 ratios. This means that the floor is flat. 8 seats 5 doors.
Converters
Northstar offer campervan conversions based on the Nissan Elgrand
Northstar
The Campervan Co describe their conversion as a hi-spec, hi-powered campervan that sleeps four adults. They offer conversions (2022) starting from £18,000.
Specifications
E51
https://www.auto-data.net/en/nissan-elgrand-e51-3.4-i-v6-24v-2wd-240hp-571
Insurance
Caravanwise are happy to offer insurance for the Nissan Elgrand once you decide to do a campervan or Day-Van conversion. The same insurance policy will cover you before during and after your conversion. We've been offering this kind of insurance for over 20 years and have built up a reputation and level of expertise that is second to none. We are happy to insure vehicles based in Northern Ireland and can even provide first class UK and EU breakdown cover for just £55 a year when bought along with your campervan insurance. DIY Campervan Insurance