How to turn a £600 Ford Transit into a tidy Campervan on a very minimal budget.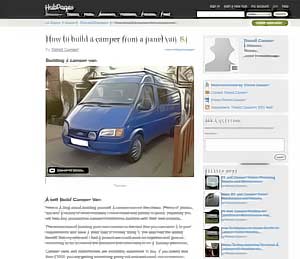 I wonder how many people have completed a similar project but not bothered to photograph the progress and failed to keep notes and were then too busy to write up details of the build. The Anonymous "Transit Camper" actually remembered all of those things and has written up and illustrated his experiences of buying an old blue Transit van, discovering rust, dealing with it, painting the body work, ripping out the interior etc.
"Transit Camper" worked his budget magnificently buying a sink cooker unit from an on-line auction for £20, recovering the drivers and passenger seats themselves using the old unpicked covers as a template and rather nice cream leather as the new covers. Furniture was built from scratch using a 2" × 1" timber frame and ply covering. The bed and seat cushions were rescued from a caravan and resized to fit. In fact the caravan cushions and a toilet door cost him just £10 plus £20 in fuel to pick them up. He even wired it up with a 500 watt inverter so that they can use 240 volt appliances.
The total cost was under £1,000 including road tax and he recons it would have cost him £4,000 or £5,000 to buy an old second hand purpose built campervan.
Is this build tidy? Well it is so good it won second place in the TransitMania best camper category.
Details of the build with extensive photographs is here:
Transit Camper
Using the Transit camper